Acquisition International Leading Adviser award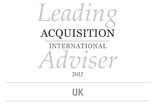 Camden Associates is proud to announce
it has won the 2012 Leading Adviser award
from Acquisition International
Acquisition International is a monthly magazine published by AI Global Media Ltd, a publishing house that has reinvigorated corporate finance news and reporting. As an editorially driven magazine, its topical news articles make it a highly enjoyable read, and this readability ensures that advertisers will benefit greatly from their investment.
Acquisition International works alongside leading industry analysts to ensure they publish the most up to date figures and analysis. Through their regular features including the Deal Diary, the Deal Guru, Lead Mandate and their regional, sector and specialist reviews, they thoroughly research and publish today's corporate finance news in cooperation with the leading professionals in the industry.
Acquisition International has a global circulation, which brings together all parties involved in deal making and in an increasingly global deal market they are uniquely positioned to reach the deal makers that matter.
Their circulation is just over 53,000 and importantly is comprised of a great mix of professionals; a quarter of their readers are the top tier management at small and medium sized companies as well as large corporates around the globe, they also attract private equity companies, debt providers, professional services companies, lawyers, accountants - in fact all parties involved in deal making. In an increasingly global deal market we are uniquely positioned to reach the deal makers that matter.
Although others may boast higher circulation figures, Acquisition International is read by those that matter on a global basis. They have an established following in the developed world with the UK, Mainland Europe, the USA and Australia being our largest bases and our subscriptions are increasing noticeably in emerging markets across South America, Africa and Asia.
Acquisition International also recognises and honours the leading dealmakers in their awards supplement, in which they combine votes alongside in-house research data and industry expertise to finalise the shortlists and the overall winners. Acquisition International's awards are given solely on merit.
Camden Associates is a corporate finance house headquartered in London with a particular specialty in international financing and a special emphasis on the following sectors: biotech, tech, real estate as well as junior mining and exploration companies.
2012 saw the company complete a number of financings totaling more than 12 million Euros in a very difficult environment, notably for Canadian gold company NWM, Australian bio-energy company IER, French internet wine sales company 1855, and French biotech company Theravectys. This latter financing was the largest private equity raise on record in the region in 2012.